June 2021
HEINZMANN company in Schönau enables employees to receive Corona vaccination
Schönau in June 2021 – On Wednesday, May 26, 2021, all HEINZMANN employees who signed up for an appointment received their first vaccination against Covid-19 at the Schönau Health Center.
Our employees' willingness to be vaccinated was gratifying. The vaccination campaign was carried out by the company physician Dr. Honeck, who is based in the Upper Wiesental withhis supra-local family practice Dres. Honeck-Ertl.
"We are very pleased that this vaccination offer was so well received by our employees and that we were able to make an important contribution to the health of our workforce. With the help of our internal Covid-19 crisis team, we have treated the issue of the Corona pandemic with high priority and great importance from the very beginning and hope to be able to return to normal business operations (business and service trips, etc.) as soon as possible" said Markus Gromer, CEO HEINZMANN.
HEINZMANN also acts as a supplier for companies in the energy supply sector and supplies control systems to well-known companies such as MAN, MWM, Deutz and Jenbacher.
These companies in turn install their gas and diesel engines in municipal and industrial emergency power systems throughout Germany and Europe, e.g. in sewage treatment plants, gas pipelines and other emergency power systems. If such systems were to fail in these companies, e.g. due to environmental influences, this would result in a real emergency scenario with unforeseeable consequences. For this reason, it is essential that HEINZMANN is available for technical service and spare parts supply at all times.
HEINZMANN – founded in 1897 and headquartered in Schönau since 1992 - offers its customers individually tailored solutions for reducing emissions and increasing efficiency, and as a system provider, electric drive systems for industry and cargo bicycles.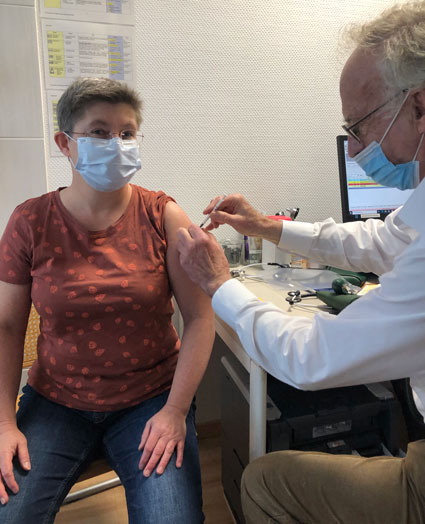 HEINZMANN employees were able to get vaccinated in Schönau
(Source: Heinzmann GmbH & Co. KG)
Contact and press requests: This email address is being protected from spambots. You need JavaScript enabled to view it.