November 2019
On 13/11/2019 twelve individuals and three companies were awarded the Baden-Württemberg State Business Medal at a ceremony at the New Palace in Stuttgart. Heinzmann GmbH & Co. KG was one of the companies honoured.
Represented by Directors Markus Gromer, Gaudenz Pacher-Theinburg and Peter Mérimèche, HEINZMANN was awarded the Business Medal for outstanding business achievements and to recognise its contribution to the economy of Baden-Württemberg by the Minister of Economic Affairs, Dr Nicole Hoffmeister-Kraut.
Since 1987, the Baden-Württemberg State Business Medal has been presented to individuals and companies who have made an outstanding contribution to the state's economy. It can honour special achievements by business organisations, trade unions, employee associations, employer organisations and in education that benefit the state's economy and society.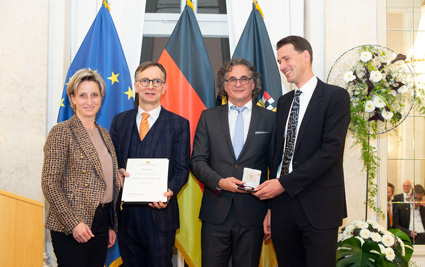 Minister for Economic Affairs presents Business Medal to Heinzmann GmbH & Co. KG
(Source: Leif Piechowski)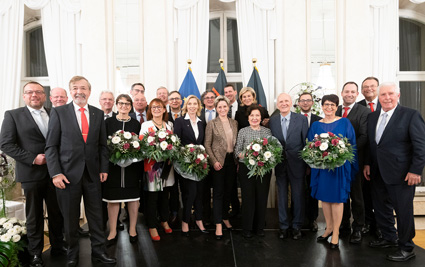 Winners of the 2019 Business Medal
(Source: Leif Piechowski)

Contact and press requests: This email address is being protected from spambots. You need JavaScript enabled to view it.