April 2019
As a specialist in engine and turbine management solutions, HEINZMANN offers common-rail (CR) retrofit conversions for a wide range of diesel engines whilst also providing all of the monitoring and safety features required for efficient marine applications.
Increased demand for a reduction of environmental pollution, as well as an increase in engine efficiency for marine applications, has necessitated advanced technical solutions for the Swedish icebreaker fleet. State of the art electronic fuel injection (EFI) systems provide the key to prolonged, ecological and economical engine life with moderate investments in HEINZMANN retrofit technology.
The Swedish Maritime Administration (SMA) operates a fleet of several icebreaking vessels. Considered as a role model within the governmental agency, SMA examined the technical possibilities of an advanced fuel management system to meet the environmental guidelines and to make their vessels more efficient.
The project started with the retrofit of the 40-year old icebreaker YMER: During an on-site survey, HEINZMANN's experts reviewed the feasibility and the expected performance of implementing a CR-retrofit system to the ship's five main Pielstick 2.2 engines generating 3.5 MW each. It turned out that the specific customer requirements could be met by retrofitting the engines to Common Rail.
To develop a concept, specification data were obtained from original drawings. An on-site survey, including on-engine measurements, was performed and a mock-up of the high pressure fuel piping and rail system was built. As a proof of concept, one of the five main engines was retrofitted with the HEINZMANN CR-system in December 2013 to determine the impact on efficiency and emissions.
A first step towards emission and fuel reduction
The system installation and commissioning was done without any major modification to the engine itself. It comprised the complete replacement of the fuel system, the mounting of a local operation panel and the integration of the HEINZMANN control, monitoring and safety system into the ship's automation system. A second main engine with original hydraulic governor-based configuration was operated under comparable conditions in order to rate the improvements.
During a two-year-test period it was clearly proven that the targeted 5 % of fuel saving could be met with the HEINZMANN CR-system. Emissions met the expected IMO Tier 1 level.
Further improvement of fuel saving by 2.5 % was achieved with an additional turbocharger upgrade. In addition, visible smoke disappeared completely. The vibration level fell by 30% and the maintenance costs decreased remarkable.
Excellent engine performance even under most challenging conditions
Next, the retrofit of the remaining four main engines was done by the end of 2016. Further fuel saving potential was planned by reducing the engine speed in part load from 485 rpm fixed speed down to 360 rpm variable speed. As a so called "Green Drive", this load dependent speed mode was introduced successfully. This could be measured and resulted in a further fuel saving of more than 4 %. As a side effect the lube oil consumptions decreased by 50 %.
After completion of the commissioning of all five engines, the successful integration into the ship automation system was verified during sea trials.
The HEINZMANN CR-system has proven its excellent performance and reliability throughout three seasons under challenging and harsh operating conditions. All objectives have been met to the fullest satisfaction of SMA. Further retrofits for the remaining sister vessels are in serious consideration.
During the measurements in field service, a total fuel saving of 11 % could by confirmed by SMA.
Cost- and energy-efficient retrofit solutions from HEINZMANN
HEINZMANN has more than 20 years of experience in electronic fuel injection, offering in-house-developed and produced mechanical components such as high-pressure pumps and fuel injectors. Complete common rail systems including monitoring and protection components as well as touch screen based operating panels, can be supplied from one source. The company also offers all related services including engineering, application works, installation, commissioning and maintenance. Engine sizes range from 500 kW up to >10.000 kW.
Common rail retrofit is particularly recommended for applications with variable load and speed; thus utilising all the benefits of advanced electronic fuel injection. Due to the remarkable fuel saving achieved on typical marine applications, the return of investment can be expected in less than two years (assuming >5000 operating hours per year). For rail traction and comparable industrial applications the savings are similar.
In the case of dual fuel conversion of an engine, the electronic fuel injection on the diesel side provides the best possible conversion ratio and lowest fuel consumption, in diesel as well as in gas operation. Based on a modular concept and standard components, cost effective solutions can be provided for different applications.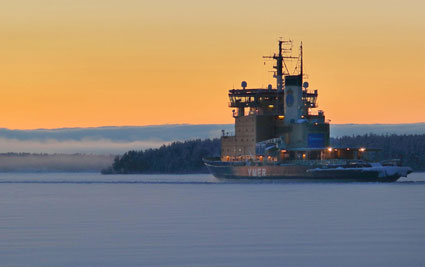 YMER Icebreaker in action without any trace of smoke in the chimney.
Source of Image: Staffan Ahlstrand, Sjöfarsverket Rederi, Sweden, February 2019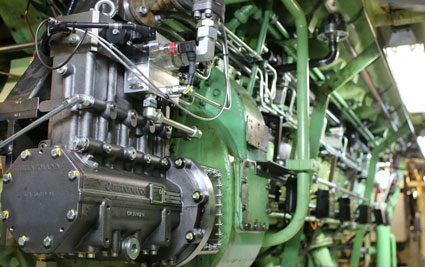 HEINZMANN HDP-K4 high pressure pump on Pielstick 2.2 engine at YMER icebreaker
Source of Image: Albert Hagander, Sjöfarsverket Rederi, Sweden, February 2019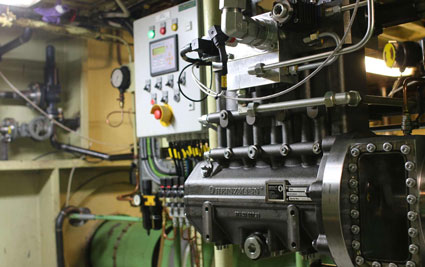 HEINZMANN local operation panel and CR HDP-K4 pump on Pielstick 2.2 engine
Source of Image: Albert Hagander, Sjöfarsverket Rederi, Sweden, February 2019

Contact and press requests: This email address is being protected from spambots. You need JavaScript enabled to view it.