September 2018
SMM brought together around 50,000 industry visitors from more than 120 countries, once again highlighting its importance as the leading international maritime trade fair.
Featuring a total of 2,289 exhibitors from 69 nations, and five accompanying conferences, SMM more than met the industry's high expectations, setting new standards for internationality and innovation.
The HEINZMANN Group had two separate stands at this important show in Hamburg, Germany (September 4 – 7). Stand 108 in Hall A3 was dedicated to products for prime movers and propulsion systems, while stand 504 in Hall B6 presented integrated marine alarm monitoring and control systems by the Group companies Regulateurs Europa Ltd. and Heinzmann Automation AS.
Exceptional number and quality of contacts on the HEINZMANN stands
At both stands there was plenty of interest in the Group's innovations which share one common goal: a significant reduction in fuel consumption, with the added environmental benefit of lower emissions. Customers thus benefit from this by saving fuel costs and at the same time complying with stricter emission standards.
The HEINZMANN Group thanks all visitors for their visit to the two stands and will do its utmost to remain in contact with its existing and potential customers.
www.heinzmann.com
www.regulateurseuropa.com
www.heinzmann.no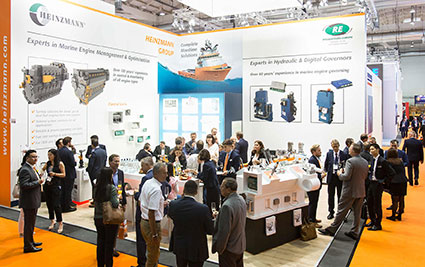 Impression HEINZMANN Booth A3.108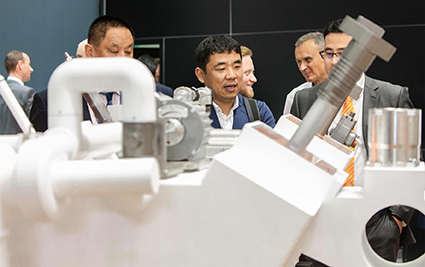 Impression HEINZMANN booth with diesel/gas engine model in the foreground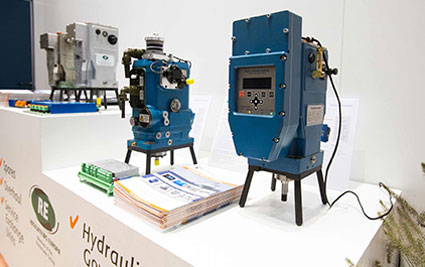 Hydraulic governor DG 2800.14 of Regulateurs Europa B.V.

Contact and press requests: This email address is being protected from spambots. You need JavaScript enabled to view it.