July 2022
Gas Power appointed new strategic partner and authorised distributor for all HEINZMANN product lines in 25 countries.
HEINZMANN is pleased to announce the appointment of Gas Power Sp.zo.o sp.k as strategic partner and authorized distributor for all HEINZMANN product lines in 25 countries effective June 1, 2022.
Gas Power is a global supplier for Stationary Engines, Engine Accessories and Controls, based in the North of Poland near the Baltic Coast. The company was founded in 2019 by a team of experienced industry experts and has achieved an excellent reputation in the industry. Based on long term market experience and a wide customer network, Gas Power has grown fast with engine related product sales as well as after sales service.
With today's 10 key employees located in Poland and Germany, the company is trying to achieve the best possible customer satisfaction. Gas Power offers a comprehensive service to customers including parts, technical support and training with a focus on proven and technologically advanced solutions. Gas Power is promoting HEINZMANN products alongside engine parts, spark plugs, CHP control systems up to equipped engines or fully integrated CHP units. Customers worldwide benefit from strong service support including regular engine maintenance, engine control improvements or complete electronic and mechanical upgrades of medium to large sized engines. Online or physical training courses are offered to increase the knowledge of operators and service staff.
Gas Power`s aim is to build a distribution and service support network with local partners in its assigned market areas to further promote HEINZMANN products.
HEINZMANN is delighted to participate in this Distributorship agreement. With our long-term experience and customer orientated attitude we are convinced we can serve all markets with more technical presence and to establish successful customer relationships.
Contact details Gas Power:
Jan Zdzieblo – Sales Manager | +48 515 406 236 | This email address is being protected from spambots. You need JavaScript enabled to view it.
Gas Power sp.zo.o sp.k | Charzyno 15i | 78-122 Charzyno, Polska
+49 172 4022770 | This email address is being protected from spambots. You need JavaScript enabled to view it. | www.gaspower.tech
For sales requests please contact:
For the Polish market: Robert Walasek | +48 797 977 282 | This email address is being protected from spambots. You need JavaScript enabled to view it.
For the international market: Henrik Thies | +49 170 1827752 | This email address is being protected from spambots. You need JavaScript enabled to view it.
Contact HEINZMANN:
Robert Virchow – Head of Business Unit Gas Engines | +49 1761 8208 153 | This email address is being protected from spambots. You need JavaScript enabled to view it.
Gas Power Team
(Source: © Gas Power, Charzyno, Polska)
Office Gas Power, Poland
(Source: © Gas Power, Charzyno, Polska)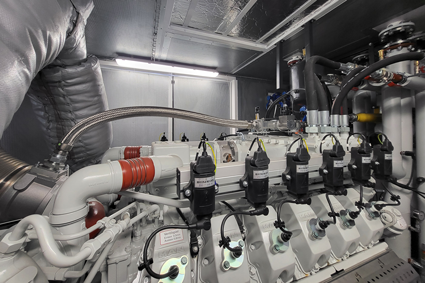 Dressed MAN Gas Engine Biogas Genset
(Source: Heinzmann GmbH & Co. KG)
Contact and press requests: This email address is being protected from spambots. You need JavaScript enabled to view it.